Columbia University GSAPP | Spring 2021 | MSAUD


Hudson
Connect

Walkable Landscapes for the Green New Deal

Chao Li, Scarlet Tong, Victor Lo, Zuzanna Jarzyńska
Checkout our StoryMap for a different curated web experience.


Our dependence on cars accounts for 21% of global carbon emissions and has dominated the built environment. Leveraging the $2 trillion infrastructure plan and support from the Green New Deal, small cities in Hudson River Valley can promote sustainable modes of transportation by rethinking roads and bridges. The project uses the City of Hudson to demonstrate a shift away from allocating "roads and bridges" to privately owned cars to improve public health, equity, and safety - generating cities meant for all.

With four parking spaces for every resident-owned car, Hudson, NY currently has more space dedicated to vehicles than to people. Along with hazardous truck traffic, the damaged streetscape within the city further discourages residents from going anywhere on foot. Outside the urbanized areas, roads and highways cut through valuable Hudson River Valley wetlands, grasslands and forests that surround the city, further exacerbating the effects of climate change.



Overall Design Approach


We confront the current paradigm that prioritizes vehicular traffic by reclaiming the streets for people and nature. This begins with rerouting truck traffic and is continued with maintenance of sidewalks, introduction of bike lanes and establishing a robust public transportation system of shuttles and bike sharing that are free to residents.



1. Reroute Trucks

The truck traffic that bypasses downtown Hudson is not only a safety and health hazard for the residents, but it also restricts opportunities to fully utilize the streets. In the first step, the trucks will be rerouted to the existing highways outside of Hudson - ones that are already designed for heavy-duty vehicles. With Hudson officials already discussing and investing on this issue, it's only a matter of time before trucks leave the city entirely.
2. Shared Streets

Once the trucks are out of the city, the streets can once again be safely traversed by pedestrians and cyclists. Furthermore, the asphalt on the street is replaced with sustainably produced, permeable materials and natural vegetation, making the walking experience pleasant again.

3. Reuse Parking Spaces
The disproportionate amount of parking spaces in the city presents itself as another opportunity to improve the transportation system in Hudson. HudsonConnect introduces its main component in these spaces. HLink is a network that connects people and goods both in and out of the city.

4. Rethink Public Transportation

ImpactsReducingThe fourth and final step that completes HudsonConnect is to rethink public transportation. This comes in the form of the HLink shuttle system - a network that provides both on-demand service within the city and scheduled trips to Hudson's neighboring communities.

This system works in two layers: a smaller scale area where the shuttle can be called on-demand, and larger scale area where it makes scheduled stops. Finally, the system is complemented by a 40-minute biking area, where local residents are provided with safe bike lanes to get to Hudson.

Regional Impacts
Our intervention starts with Hudson, but could be replicated to other cities along the Hudson River. The resulting network of local sustainable transportation systems will reinforce mobility as a basic human right and act as a first step towards creating an environmentally just world.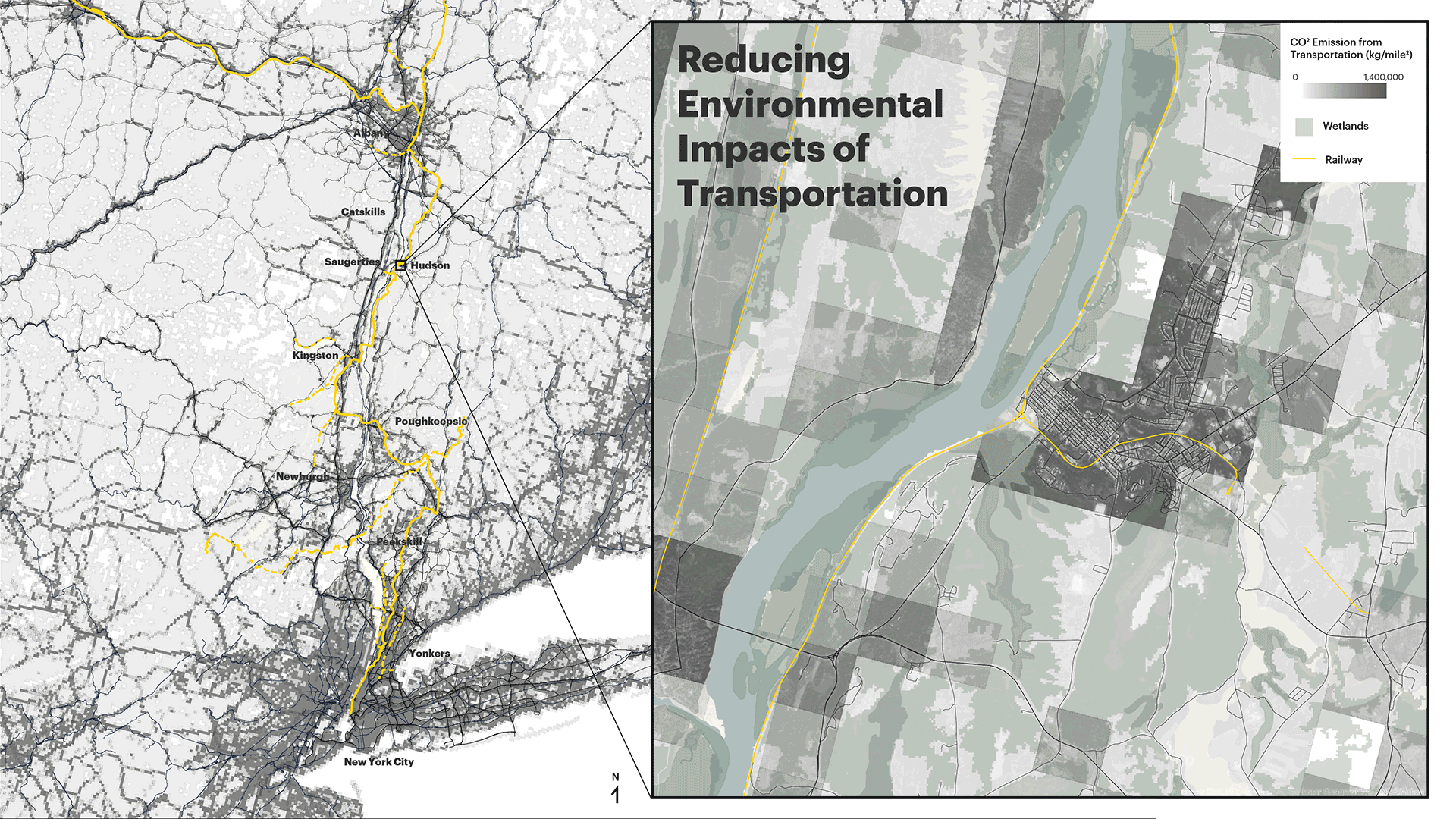 Green New Deal Superstudio Submission